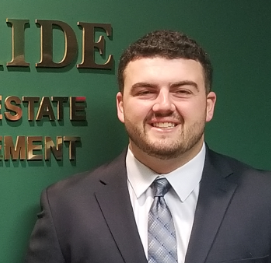 We are pleased to announce the promotion of James McNerney to Senior Vice President. In this role, James is responsible for the sale, leasing and investment aspects of the commercial real estate business.
During his tenure with McBride, James and his team have built an extensive, diverse client base, completed transactions for Bell's Little Learners, Portx Inc., Cottman Transmissions and more and played an integral role in the 2020 sale of a 126,834 sq. ft. office space in Montville, N.J. and a 119,592 sq. ft. industrial warehouse space in Totowa, N.J.
James is a lifelong resident of Northern Bergen County and is Chairman of the Young Professionals Group at the Bergen New Bridge Medical Center. In addition, he is an active participant in the Mahwah Official Men's Networking Initiative and the Mahwah Chamber of Commerce. James continues to delight customers with his extensive knowledge of the N.J. marketplace. James graduated from Assumption College in Worcester, M.A. with a B.A. in Organizational Communications.
Join us in congratulating James on this notable achievement.