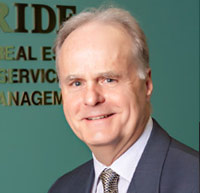 Mr. James Martin joined the New York office of McBride Corporate Real Estate in March 1999 and has 30+ years experience serving NYC, Orange and Dutchess Counties.  Prior to joining McBride, James, as Managing Director of The Lansco Corporation, had 13 years experience in New York City's commercial real estate market, specializing in office, retail leasing, and building sales.
Since joining McBride Corporate Real Estate, James has been the "Salesperson of the Year" in 2006, 2009, 2010, 2013, 2015, 2018 and most recently 2019.
James earlier work experience was in the cosmetic/fragrance industry having been National Sales Manager at Parfums Givenchy where he was responsible for managing the U.S. sales force.  James majored in Business Administration with a specialization in marketing, Dean's List – New York University at Brockport.
Commercial transactions brokered include:
Sale of ±12,000 SF office building at 955 Little Britain Road, New Windsor, NY to Guro Realty, LLC
Lease of ±55,000 SF of industrial space at 1900 Corporate Blvd., Town of Newburgh, NY to AJW Products
Sale of ±36,000 SF retail/warehouse building at 2596 Route 17M, Goshen, NY to Prime Scuba
Sale of ±10,000 SF industrial building at 3207 Route 6, Middletown, NY to Marshall Machinery, Inc.
Lease of ±24,000 SF industrial space at 1073 Route 94, Vails Gate, NY to United States Mint
Lease of± 25,000 SF office space at 1279 Route 300, Newburgh, NY to Finkelstein & Partners, LLP
Sale of ±53,000 SF industrial building at 54 Jeanne Drive, Newburgh, NY to Jeanne Estate, LLC
Sale of ±10,000 SF flex building at 520 Temple Hill Road, New Windsor, NY to Randob Labs
Sale of ±11,200 SF medical office building at 236 Crystal Run Road, Middletown, NY to Seneco Enterprises
Sale of ±50,000 SF industrial building at 45 Leone Lane, Chester, NY to 45 Leone, LLC
Lease of ±18,048 SF of office space at 276 Temple Hill Road, New Windsor, NY to New York Life Insurance Co.
Sale of ±21,028 SF industrial building at 300 Corporate Blvd., Town of Newburgh, NY to Big Shine Worldwide, Inc.
Sale of ±41,000 SF industrial building at 65 Leonards Drive, Montgomery, NY to ACME27, LLC
Sale of ±12,960 SF industrial building at 8 Industrial Drive, Goshen, NY to 8 Industrial Drive, LLC
Lease of ±9,224 SF of office space at 100 Commerce Drive, New Windsor, NY to Abbott House
Sale of ±51,000 SF retail building at 250 Dolson Avenue, Town of Wawayanda, NY to SJAR Realty, LLC.
Lease of ±12,260 SF of industrial space at 1073 Route 94, New Windsor, NY to Retail Group of America
Sale of ±30,000 SF industrial/office building at 10 Stage Door Road, Wappingers Falls, NY
Sale of ±51,000 SF industrial building at 206 Wembly Road, New Windsor, NY to Fine Fixtures.
Lease of ±7,945 SF of office space at 300 Westage Business Center, Town of Fishkill, NY to GSC/Kleinfelder
Lease of ±13,538 SF of office space at 1279 Rte. 300, Newburgh, NY to Tectonic Engineering & Surveying
Sale of ±7,636 SF Town Garage building at 555 Union Avenue, New Windsor, NY to New York Granite Corp.
Lease of ±9,500 SF of medical space at 60 Merritt Blvd., Fishkill, NY to Hudson Valley Cardiovascular Assoc., PC
Lease of ±50,000 SF of office space at 51 Assembly Way and 15 Governor Drive, Newburgh, NY to EPICOR Software
Sale of ±92,446 SF industrial building at 32 Leone Lane, Chester, NY to Satin Realty Associates
Sale of ±76,000 SF sports facility at 1717 Route 17M, Town of Goshen, NY
Sale of ±7.3 acres at the corner of Routes 6 & 17M, Town of Wawayanda, NY to Krisujen Realty
Sale of ±10,800 SF office building at 100 Egbertson Road, Town of Hamptonburgh, NY to Fairview Farm, LLC
Sale of ±48,500 SF industrial building at 110 Industrial Road, Town of New Windsor, NY to FEE Realty, LLC
Sale of ±31,000 SF industrial building at 3480 Route 6, Town of Wawayanda, NY to Krisujen Realty
Sale of ±56,000 SF industrial and office building at 62-84 Industrial Place, Middletown, NY to D & W Inc.
Sale of ±127,000 SF office building at 2455 South Road, Town of Poughkeepsie, NY to Thylan Associates, Inc.
Sale of ±25,785 SF office condominium at 555 Hudson Valley Avenue, New Windsor, NY to ENAP, Inc.
Prior lease transactions successfully completed in New York City were those in which he represented American Standard Inc., Cluett, Peabody & Co. Inc., Haggar Clothing Company, Hachette Filipacchi Magazines, Dreyfus Charitable Foundation and AT&T Wireless Services.


Email: