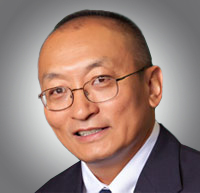 David Yao has been with McBride Corporate Real Estate since November 2001. As a Senior Vice President, his responsibilities include, but are not limited to, the commercial real estate business consulting, financial analysis, leasing, purchasing and selling of industrial and office space.
During the five-year period ending December 31, 2010, David was involved in the sale or lease of over 1,500,000 square feet of industrial space with and aggregate transaction value of over $100,000,000. His clients include: Takasago USA, Hino Trucking, Opticon, Middle Atlantic Products, Charabot, Dereuninck USA, Euromed Inc., Icco Cheese, Parker Hannifin, Frist Industrial Realty, Sigma Nectics, Sava Industries, Key Properties, and Kolbus USA.
Prior to joining McBride, Mr. Yao served for 2 years as Project Analyst (Consulting) for Insignia/ESG where he was involved in commercial real estate. Before devoting himself full-time to commercial real estate, Mr. Yao was a scientist with Wyeth-Ayerst Research (American Home Product Company) and Dupont Pharmaceutical.
He earned a Ph.D. degree from City University of New York and an M.B.A. from Drexel University.
Email: