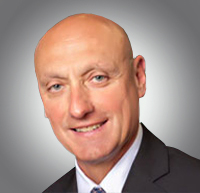 Mr. D'Amato has been a member of the McBride Corporate Real Estate team for 21 years and brings over 40 years of commercial real estate experience to the firm. As Executive Vice President, he is responsible for transaction management, new business development and the sale and leasing of commercial and industrial properties in Northern and Central New Jersey and lower New York State. Mr. D'Amato represents a diverse client base and has concluded transactions with corporations including State Farm Insurance Company of Bloomington, Illinois, Manor Healthcare Corporation, HealthSouth Corporation, Konica Medical Corporation, Middle Atlantic Products, Raymour and Flannigan and Parker-Hannifin, Thermo Electric Corporation and Datascope Corporation.
Mr. D'Amato began his career in commercial real estate in 1980 as a Sales Executive with the national brokerage, Coldwell Banker Commercial Real Estate Services. Prior to entering the real estate industry, Mr. D'Amato was an Account Executive with Xerox Corporation in their New York office in the financial district.
Mr. D'Amato received his Bachelor of Science Degree in Business Management from Fairleigh Dickinson University.
Email: